A Dancing 'Listener' Who Spied on Nazi Generals

By Bill Echikson, EUPJ Brussels Director

It was past midnight. The music blared. In the middle on the buzzing dance floor, Eric Mark and his wife Miriam swayed and swung to the beat of the jitterbug. Eric was already 90-years old.

When Eric left us this month at the age of 98, he left a legacy that testified to the horrors and happiness of Jewish life over the past century. Born in Magdeburg, Germany, he remembered clearly the hyperinflation of the 1920s, his parents' anxiety at Hitler's rise to power, the forced closure of the family business, and his parents' struggle to buy enough food after the Jewish bank accounts were blocked. Expelled from his grammar school as a Jew, Eric's parents Otto and Erna sent him away in 1935 as a 12-year old to London to obtain an education.

He saw his parents just once more, during the 1936 summer holidays. Eric's younger brother Werner (Vernon) came to England in 1938. Eric's parents could not get out. In 1943 with his aunt Adele, the Nazis sent them to Treblinka and gassed them on arrival.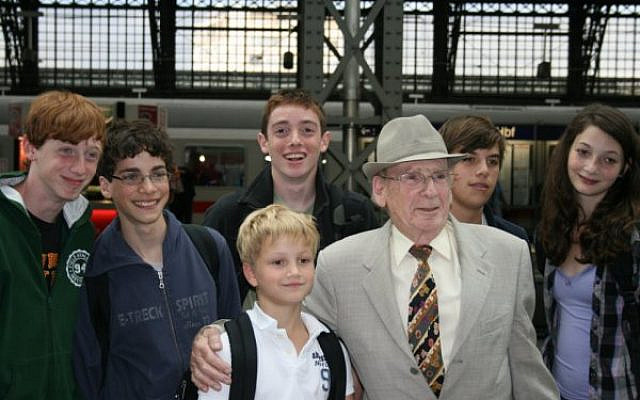 Eric Mark visits Cologne with a class of school children from his congregation,
the International Jewish Community (IJC), in Brussels
After World War II erupted, the British interned Eric, age 18, an "enemy alien" on the Isle of Man, one of 30,000 German refugees behind barbed wire. In September 1940 he was released to join the British army's Pioneer Corps.
Eventually, British intelligence recruited him for his native German and he became one of a hundred "secret listeners," German-speaking émigrés, who worked for MI9. Based at three requisitioned country estates: Trent Park in north London, and Latimer House and Wilton Park in Buckinghamshire. They worked in 12-hour shifts, every day of the year, eavesdropping on the conversations of imprisoned German generals. Eric is the last of the listeners to pass away.
In 1949, Eric met his wife Miriam at a Purim party and became, in the words of his son David, "more English than the English." He loved cricket. He adored marmalade. He joined an amateur theatre group and adopted British humour.
After joining Shell in London, he transferred to the Hague and lived in the Netherlands for 17 years. During his business travels for the oil company, he would befuddle hotel receptionists with his answers to their queries about his profession. Once he was an acrobat. Another time, he listed playboy. And yet another time, more accurately, he said a spy. "He went through the entire alphabet," his son David recalled at the funeral. During one trip to New Zealand in 1961, he introduced the new-fangled rock-in-roll-inspired visit to the country. "He dedicated his life to make people laugh and smile," David said.
When the UK joined the Common Market in 1973, Eric joined the European Commission. He soon acquired fluent French on top of his English, Dutch and German. He worked as a transport economist and directed a Common Transport Policy unit. In this role, he improved road safety, imposing speed limits and flexible motorway crash barriers throughout Europe. His achievements include regulations requiring compulsory seat belts, the mutual recognition of driving licenses, and helping manage the engineering work for the Channel Tunnel.
In 1987, Eric retired to his adopted homeland Belgium. Until the classified files were released between 1999 and 2004, the story of the "listeners" remained secret. Once they were made public, a riveting book, "The Walls Have Ears," published last year, described his experiences.
Eric visited our liberal International Jewish Community synagogue to speak at our Talmud Torah. He told about the persecution he faced as a Jew in Nazi Germany. Our children were thrilled to meet a real spy. He recounted his war stories, which both horrified and delighted them. The generals boasted about annihilating Jews. "They would "say things like 'I knocked off about 1,500'," he recalled. The generals discussed the secret V-1 and V2 weapons program, leading to the 1943 RAF mission to destroy the German secret weapons establishment at Peenemünde on the Baltic coast.
At the age of 96, the House of Lords organised a reception in his honour.
Each Yom Kippur, Eric and Miriam read out the names of the deceased at Yizkor. Even as the list became longer over the years, the two of them kept reading. This year, Eric slowed down and Miriam read the names by herself. Miriam, 89, remains in the hospital, recuperating from COVID-19. Eric leaves three children, David, Anne, and Sandra, and four grandchildren. He also leaves a long and remarkable legacy.
This article was first published in The Times of Israel.
**********
Eric, his wife, Miriam, and his family were members of the International Jewish Community (IJC), an EUPJ Brussels congregation.
The EUPJ is one of five organisations that partnered to form the Networks Overcoming Antisemitism (NOA) in order to tackle rising antisemitism in Europe. This article is part of a NOA series on Jewish contributions to a more inclusive Europe. Find more at the NOA Project.