A Voice from Vienna: Austria's Surprising Embrace of Jews

By Bill Echikson, EUPJ Brussels Director

Earlier this month, an Islamic State "sympathiser" shot dead four people in the busy Seitenstettengasse Street of the Austrian capital's Old Town. The shootings took place almost in front of the city's main Jewish synagogue, the 19th century Stadttempel.

On Sunday, 22 November 2020, Bill Echikson, EUPJ Brussels Director, interviewed Eric Frey, President of Or Chadasch in Vienna, and a Senior Editor of Der Standard, an Austrian newspaper. This is a summary of the discussion written by Bill Echikson.

**********

My disturbing introduction to Austria came in 1986. I was a young reporter for an American newspaper and was covering the presidential election of Kurt Waldheim. Despite his past as a soldier and intelligence officer in the Nazi army during World War II, Waldheim won a resounding victory, reassuring his fellow countrymen that Austria was the first victim of Nazi aggression when native son, Adolf Hitler, annexed the country in 1938.

Given this dark background, Eric Frey, the leader of our Or Chadasch Progressive Jewish community in Vienna, surprised me by giving his home country an A grade in coming to terms with its Nazi past and its engagement with modern Jewry. The victim myth is gone, replaced by a strong programme of restitution. Austria has passed a new law offering citizenship to descendants of refugees forced to flee the Nazi takeover. Jewish life is flourishing in the Austrian capital.

Bill Echikson's full interview with Eric Frey

Eric and I spoke a few days after an Islamic State "sympathiser" shot dead four people in the busy Seitenstettengasse of Vienna's Old Town, near the city's main Jewish synagogue, the 19th-century Stadttempel. The synagogue was the scene of a terrorist attack in 1981 that killed two people and left dozens wounded.

Was this new barbaric butchery an anti-Semitic attack? While not offering a definitive response, Eric noted that the attack took place on a Monday evening when the synagogue was empty and that the attacker did not seem to target Jews in particular. He aimed to cause havoc in the neighbourhood, which was full of busy bars and restaurants.

As well as leading Or Chadasch, Eric edits the prestigious Austrian daily, Der Standard. His parents were Holocaust survivors, who settled in Vienna after the war. Eric attended Princeton University in the US where he studied International Affairs. Although he thought he would stay in the States after graduation, AP Dow Jones sent him to Frankfurt and he eventually made his way back to his home town. A little to his surprise, he found Vienna both pleasant and welcoming.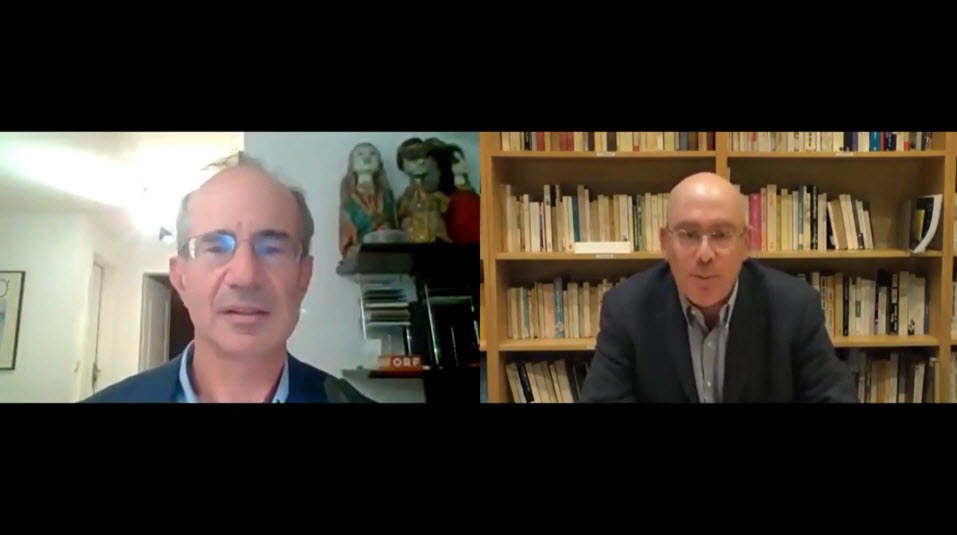 (L-R) Eric Frey, President of Or Chadasch in Vienna, and Bill Echikson, Director of EUPJ Brussels
In an ironic twist, Eric noted that Waldheim's 1986 victory began his country's path to confronting its history. While he was in office, the taboos fell about Austrian collusion with Nazi Germany. In 1991, Chancellor Franz Vranitzky acknowledged "all the facts of our history and the deeds of all sections of our people, the good as well as the evil". He apologised "for the evil to survivors and relatives of the dead".
Since Vranitzky's mea culpa, as Eric explained and my Holocaust Remembrance Project describes, Austria has worked hard to honour its memory of the Holocaust. It has revamped its school curriculum. It has become a leader in restitution of art and property. It supports survivors. The current chancellor, Sebastian Kurz, travelled in the spring of 2018 to Israel and stated that Austria has "historic responsibility" in the Holocaust. In August of this year, a new law allowed descendants of the 120,000 Jewish refugees to apply for Austrian citizenship and keep a second citizenship.
What about the far-right Freedom Party (FPO), which touts strict anti-immigrant and anti-Muslim policies?, I asked.
Though the Freedom Party has attempted to rebrand itself, clear ties to Nazism remain, including connections to far-right fraternities. Just this week, Viennese Jews expressed outrage over the appointment of the Freedom Party's former foreign-affairs spokesman and a known antisemite, Johannes Hübner, to the Bundesrat, which is the equivalent of Austria's Senate.
In 2017, Hübner aborted an attempt to run for parliament after an antisemitic comment he shared at a far-right event. And yet, Eric explained that the Freedom Party present itself as "philosemitic," believing that Jews share their dislike for and fear of Muslims.
Bill Echikson
Although this shared dislike fails to represent positive "shared values," the point Eric makes is how 2020 represents a good time to be Jewish in Austria. The government is committed not only to facing up to its Nazi guilt, but it also wants to revive both the memory of the important Jewish contribution to the country in the past – and allow the Jewish community to thrive.
Traditionally, Eric says Austrian Jews united around a "soft" orthodoxy. Jews of various traditions prayed together. Or Chadasch was founded in 1991 to offer a Progressive alternative. It provides equal rights for men and women and has members sit, pray, learn, and sing together. The community's prayer books are in Hebrew, German, and English, reflecting its membership that has come from all over the world. Eric's parents were among the founders and he became attracted to Progressive Judaism while studying in the United States.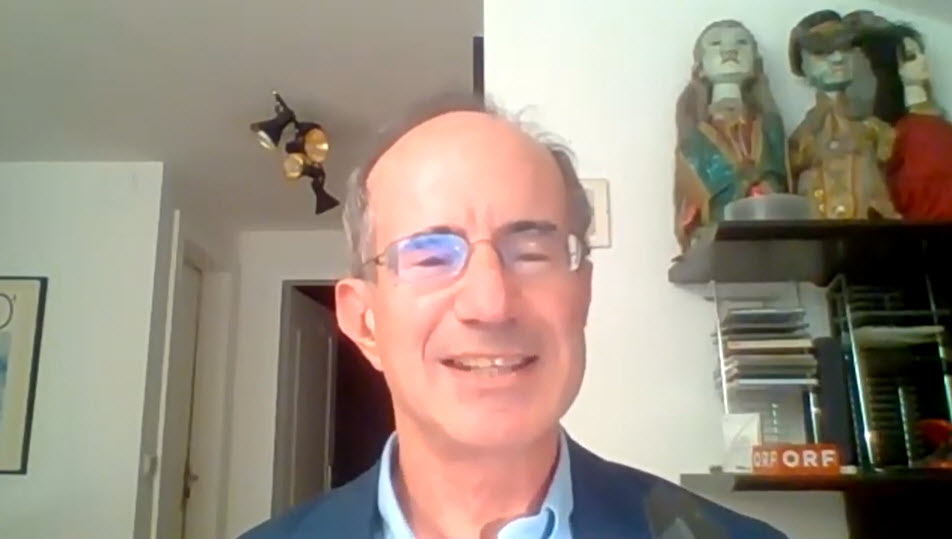 Eric Frey
Throughout Europe, Orthodox communities discriminate against Progressive communities, often refusing to consider us as true Jews. In Austria, the government officially only recognises one Jewish community, the IKG, which is Orthodox. Or Chadasch receives only limited financial support – and it is now struggling to obtain equal funding to meet its rising security needs.
This may be a new "golden" era for Austrian Jews, but as this month's attack in Vienna demonstrates, even if not directed against Jews, terrorism remains a rising danger.
This article was first published in The Times of Israel.